What's included in your log home package?
This page lists the contents for a custom milled log home package or log cabin kit. Dream Maker Log Homes is an Independent Dealer for Honest Abe Log Homes,  which has been manufacturing energy efficient, custom log cabins from its family-owned plant in Moss, Tennessee, since 1979.
Subfloor System
1.  Foundation (By Owner)
2.  Treated Sill with Termite Shield & Sill Seal
3.  Joist (2″x10″ @ 16″O/C)
4.  Double Header
5.  Subfloor Girder
6.  Decking
Log Wall System
7.  Log Walls (includes all fastener, caulking, gaskets, etc.)
8.  Window & Door Rough Opening Frames
9.  Exterior Finish
10.  Borate Wood Preservative
Second Floor System
11. Support Post
12. Ceiling Beam Girder
13. Ceiling Beams
14. Header
15. Tongue & Groove Decking (2″x6″)
Porch and Deck System
16. Porch/Deck Pier (by owner)
17. Porch/Deck Framing (treated)
18. Decking (treated)
19.  Porch Post/Plate/Angle Braces (6″x6″)
20. Porch Rafter (4″x6″)
21. Porch Rafter Decking (2″x6″ T&G)
22. Porch Rails and Spindles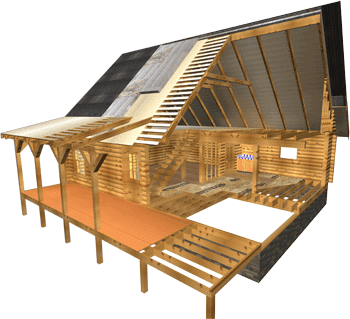 Window and Door Units
23. Insulated, Double Hung, Tilt-Sash Wood Windows
24. Insulated, Wood Grained, Fiberglass Doors, Interior
25. Interior Wall Framing
26. Stair Stringer ( 2″x12″)
27. Stair Tread (2″x10″)
28. Baseboard/Ceiling Trim (1″x5″)
29. Interior Doors
Optional Items
(not included in standard package)
30. 1″x6″ Tongue for interior walls
31. Clad Windows
32. Engineered I-Joist
33. Heavy-Timber Stair Package
What else do you need to finish your home? The answer is here.
Dream Maker Log Homes coordinates delivery of your home package and will schedule "dry-in" services. Click the button to learn what is not included in a log home package. Dream Maker offers total project coordination with contractors from start to finish.
Roof Systems Options for Log Homes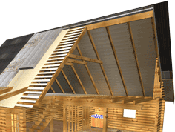 Heavy Timber
Heavy Timber Rafters
Heavy Timber Ridgepole
Collar Ties
Tongue & Groove Decking
Insulation
Sheathing
Synthetic Felt
Cedar Fascia
Trim
Gable End Framing
Gable End Sheathing
OSB Nail Base
Log or Cedar Lap Siding
Ventilated Roof Parts
Interior Gable Siding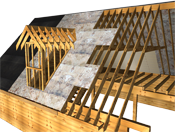 Conv. Rafter Roof
Conventional Rafters
Conventional Ridgepole
Exposed Timber Collar Ties
Tongue & Groove Decking
Sheathing
Synthetic Felt
Cedar Fascia
Trim
Gable End Framing
Gable End Sheathing
OSB Nail Base
Log or Cedar Lap Siding
Ventilated Roof Parts
Interior Gable Siding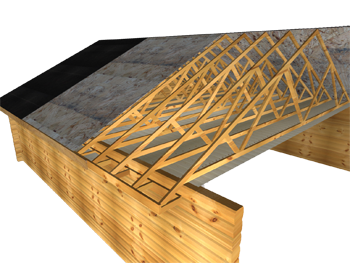 Conventional Truss
Roof Trusses
Tongue & Groove Ceiling
Soffit Framing
Soffit/Vents
Sheathing
Synthetic Felt
Cedar Fascia
Trim
Gable End Framing
Gable End Sheathing
OSB Nail Base
Log or Cedar Lap Siding
Ventilated Roof Parts
Interior Gable Siding
House Wrap