Dream Maker Log Homes, owned by Michelle Noble-Rowland, is an Independent Dealer for Honest Abe Log Homes serving log, timber, hybrid or structural insulated panel home or commercial customers in Kentucky. 
Working with Honest Abe Log Homes
As an Independent Dealer for Honest Abe Log Homes, Michelle will navigate each homeowner though the process of designing a log or timber home and serving as liaison with Honest Abe throughout the manufacturing process. Honest Abe Log Homes began in 1979 and is still owned and operated by the family of its founder. Honest Abe's kiln-dried, Eastern white pine and Douglas fir log and timber packages are manufactured in Moss, Tennessee, upon order.
Log and Timber Home Sales & Project Management
Michelle is the ideal choice for those who want an energy-efficient, custom log home, timber frame home or hybrid home. She'll oversee delivery of the log or timber frame package, and she'll manage the entire project from setting the logs and timbers to finishing the interior and exterior. In other words, Dream Maker Log Homes' customers don't have to worry about coordinating what for many is the dream of a lifetime.
Finding Land
For those who have the dream of a log, timber or hybrid home but don't have the land, Michelle is the owner/broker at Dream Maker Realty. She's a licensed real estate broker in Kentucky and can assist with finding the right location for any type of building project.
Commercial Structures
Get In Touch
To learn more about how Dream Maker Log Homes helps homeowners have the log or timber home or commercial building they've imagined, contact Michelle. Dream Marker's homeowners can rest easy that a new log, timber or hybrid will be handled professionally and expertly from start to finish.
Dream Maker Log Homes
HONEST ABE LOG HOMES
INDEPENDENT DEALERSHIP
Michelle Rowland-Noble, Owner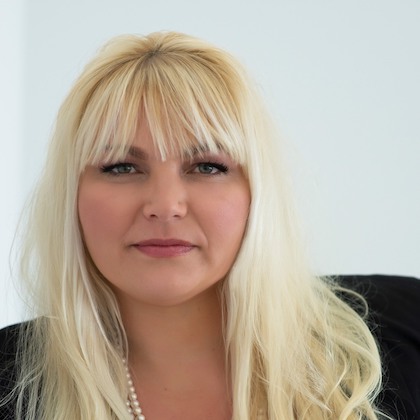 Meet Michelle…
Located in the Gateway to the Mountains, Dream Maker Realty and Dream Maker Log Homes is a one-stop shop to get you into the home of your dreams!
Michelle has more than a decade of experience in the real estate business. She started in 2006 as a real estate agent and single mother of two small children. After years of assisting her clients find the homes of their dreams she opened her own brokerage in her hometown of Mt. Sterling, Kentucky.
She has an exceptional team of dedicated realtors, and her son, Chase, decided to follow in his mom's footsteps and join her team as well! Nothing brings her more joy than working alongside her family and close friends in the area she loves.  
Dream Maker Realty and Dream Maker Log Homes also has a Construction Division. Michelle has overseen numerous construction projects, so adding the log home division was a great addition. 
Dream Maker Log Homes is located just outside of the Red River Gorge Area, which draws an incredible number of visitors from around the world each year. We are blessed to live and work among these mountains! 
Michelle enjoys doing as much as she can to help in her community, such as supporting the local sporting teams to helping with the Love of Paws.  When she's not at work, she tends to things at the Noble family farm where they have goats, ponies, horses and even a Noble Steed!